Mom's 5 Cup Salad With Pineapple Dressing
CarolAT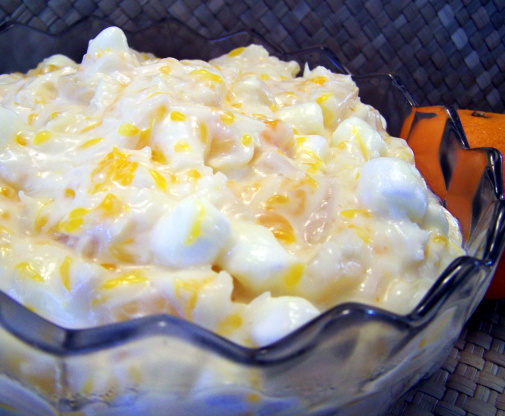 When I lost this recipe, I searched everywhere for one just like it. None of them had the dressing, which, IMO, makes this fruit salad. The dressing is very similar to what's used in Taffy Apple Salads, so I used that for awhile. I finally found my mom's recipe in a basket full of old recipes and want to post it here. I could eat all of this in one sitting. I don't care for the coconut, so I don't add it. I also guessed on the number of servings. Prep time includes time spent whisking dressing.

WOW! This was almost an exact replica of a salad that I ate by the bowl full when I was pregnant with my first daughter. I used vegan sour cream due to dairy allergies and I also added in some chopped walnuts and marschino cherries. This will be a summer staple in our house. Thank you so much for sharing!
Mix the first five ingredients together in large mixing bowl.
Dressing:.
Combine the rest of the ingredients for the dressing in a small saucepan and cook over medium heat til thickened, stirring constantly(I use a whisk).
Let dressing cool slightly then pour over salad and chill. Serve cold.