Mom's 100% Whole Wheat Air Buns (Rolls) for Abm
gailanng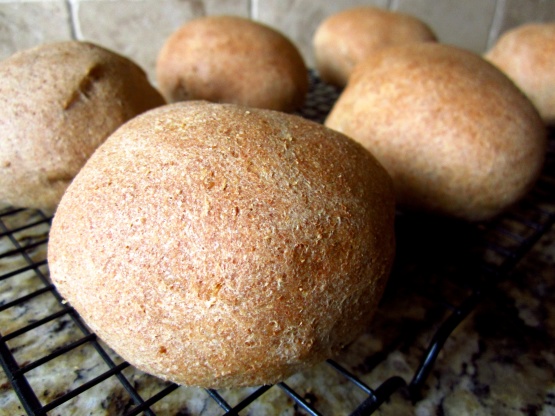 I find most 100% whole wheat buns are very dense, and let's be frank, taste like the floor of a barn. This recipe is an adaptation of my "Mom's Air Buns" #168628, and makes delicious, soft, healthy,and easy to make rolls. I think the unusual addition of vinegar is what makes the difference. Edited to include links to Mom's 100% Whole Wheat Air Loaf in Abm, and Mom's 100% Whole Wheat Air Loaves for those of you who wish to make whole wheat loaves instead of buns...same great taste and texture! For those unfamiliar with how to shape rolls, you may find it helpful to look at the following links for instructions: http://www.recipetips.com/kitchen-tips/t--1121/shaping-rolls.asp http://www.finecooking.com/articles/shaping-dinner-rolls.aspx

This was fantastic. I'd given up on wheat bread because every attempt came out too heavy or dense, but these are amazing. I used the shortening and sugar instead of honey and butter, and I brushed a little melted butter over them before and after baking. I adapted the directions a bit to use my Kitchenaid. Using the mixer, and with my kitchen being so dry this winter, I did not use all the flour called for. I'd say I used about 1/2 cup less, and I let the dough hook knead for about 5 min. I also used about a 1/2 tbsp more gluten than stated. I did put them into 2 round cake pans, but I shaped them into 4 rolls for each pan for hamburger buns. This dough was very easy to work with, and I'd recommend this recipe to anyone who has been hesitant about the taste and texture of whole wheat. I'll be making some more tomorrow, I'm sure these won't last long at all.
Put water, butter, honey, salt and vinegar in the machine.
In the bottom of a one cup measure, put 2 tablespoons of gluten, and then fill the cup with W.W. flour.
Put that, and another 3 1/2 cups of flour on top of the liquids.
Add yeast to surface, and programme for "dough" cycle.
I make two 9 inch pans of rolls, each with 9 rolls per pan, and let rise until double (the rolls will fill the pans).
Bake at 350°F (I use convection bake) for approximately 20 minutes. Rolls will be deeply golden and oh so yummy.