Moist, Light, & Fluffy Whole Wheat Bread
Brenda.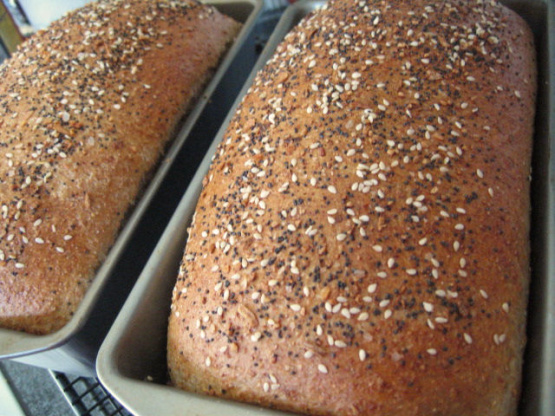 After trying Kim's (my sister-in-law) moist wheat bread, I HAD to have the recipe! It was delish! You HAVE to follow this recipe to a "T" if you want it to be moist, light, & fluffy... Don't substitute or skip any of the ingredients. I had to order the SAF yeast and Dough Enhancer from www.beprepared.com (which took a few days to get delivered, but it was worth it). The vital wheat gluten is VITAL! This is the best whole wheat bread I've ever eaten - even better than specialty bread store's bread!

In my sons words. AMAZING!!! I tried this recipe on the weekend. Oh my goodness, what a gem. Thank you so much Shelly for sharing this with us. I followed it to a T and it worked out absolutely awesome. I've been trying for many, many years to make a light and fluffy whole wheat bread without success. I've made many great loaves of bread but they were all pretty dense and heavy. I can't believe how amazing this bread is. As you can see I can't say enough good about it. This is my new bread recipe, for certain. Once again ...Thank you!
In a medium-sized bowl, put 4 cups of the flour, the yeast, the dough enhancer, the vital wheat gluten, and the salt.
In the mixer bowl (I mix mine in a Bosch mixer), put water, oil, honey, and lecithin.
Add the dry ingredients from the bowl to the liquid in the mixer bowl.
Beat with wire attachment until it forms a smooth batter. (About 3 minutes.)
Place the dough hook on the mixer.
Gradually add more flour and mix until it forms a soft dough. Continue mixing for about 10 minutes to knead the dough.
Remove the dough from the bowl and form it into 3 loaves.
Place in PAM-sprayed bread pans and spray the top of the loaves with PAM and allow to rise for about one hour.
Preheat your oven to 350* and Bake for 20-25 minutes or until golden brown.
** If you don't use all white-wheat flour, cut down on the baking time as it will brown more quickly. **You can use red wheat flour, but it is slightly heavier. I prefer using all white wheat flour or 1/2 white wheat and 1/2 red wheat flour, but any flour will work.