Marz7215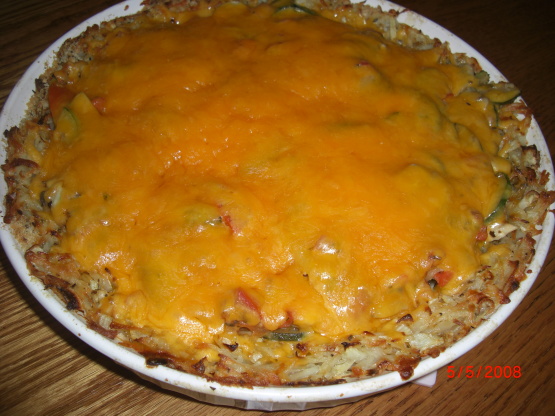 I love this meatless pie. It's an excellent meal for lunch by itself or serve it with a piece of grilled chicken or fish for a more substantial dinner.

This recipe was AWESOME! Loved it to death! I thoought the crust was going to be too much...but it all worked out. I used 3 smaller potatoes (I think anything more than that would have been too much) and the crust came out crispy and golden. I made this and served it with baked fish. Yummy! Thanks for sharing made this for photo tag.
Grease bottom of 10-inch pie plate.
Sprinkle breadcrumbs on bottom and up the sides of the dish.
In a large bowl, combine potatoes, onion, 1 cup cheddar cheese, butter, 1 teaspoons of the oregano and salt and pepper and mix well.
Spoon mixture into the pie plate and press firmly onto the bottom and up the sides.
Bake in a preheated 450°F oven for 25 minutes.
Heat oil in a pan and add zucchini, mushrooms and tomatoes.
Add the remaining 1 teaspoons of oregano and salt and pepper.
Cook mixture for about 7 minutes then spoon it into the pie pan and spread evenly over the crust.
Sprinkle with the remaining cheddar cheese and Parmesan cheese.
Bake for 5 minutes or until cheese is melted and the pie is bubbly.
Serve hot.