dojemi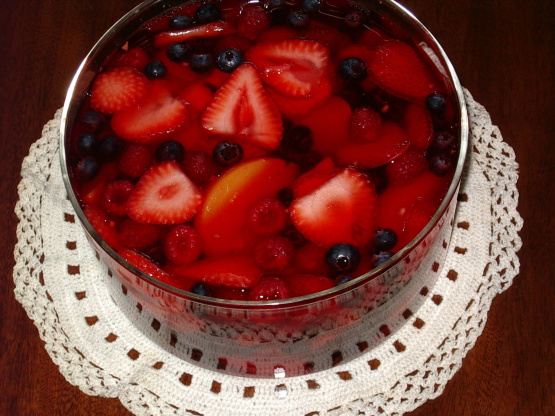 I found this recipe in Everyday Food and adapted it to my liking. It's a great low-fat dessert. Fruit should total about 6 cups. You can adjust the recipe by using whatever gelatin flavor and fruit(s) you prefer. It makes a beautiful presentation when molded in a loaf pan. For an everyday family dessert I use a glass serving bowl.

Fabulous! I made this with raspberry sugar-free jello, canned peaches, fresh strawberries and frozen raspberries and blackberries. The amount of jello is just right with 6 cups of fruit. I do recommend using a container that holds more than six cups. Great for summer!
In a bowl prepare Jello per package directions making sure all gelatin is dissolved.
Place fruit in a 4-by-8-inch (6 cup capacity) or loaf pan; pour geletin mixture over, pressing fruit gently to submerge completely.
Refrigerate until firm, at least 3 hours.
To unmold, dip bottom of pan in hot water about 5 seconds.
Invert onto a serving platter, and shake firmly to release.
Additional fruit may be placed around mold.
Slice and served as is or with Cool Whip.