Miss Kitty's Organic Skillet Cornbread
DeniseBC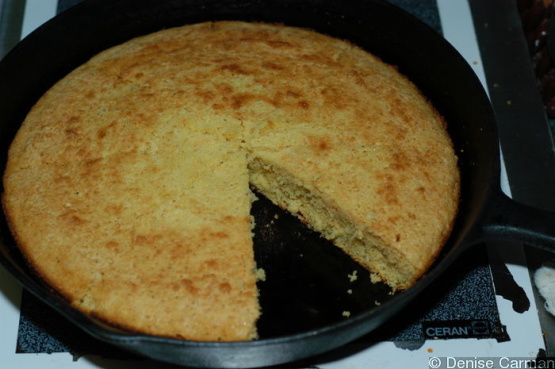 We love to have cornbread with our southern dishes and beans soups. Since we're now an organic family, I came up with these substitutions for an organic cornbread prepared the old-fashioned way, in an iron skillet. NOTE: I get most of the dry ingredients listed from Bob's Red Mill, as they are readily available where I shop.
This is good cornbread! DH likes "sweet" cornbread, but I prefer this style. I make my recipe the same way in the cast iron skillet, but the recipe I usually use is half corn meal and half flour. We liked this one very, very much and it may become our new standard. I don't always have organic products on hand, but I do try to use as many local and/or organic products as I can. This time I used local buttermilk, eggs, and corn meal. If you've never made cornbread following this method, I highly recommend it. The crust is nice and crunchy and the center is soft and crumbly. Thanks FloridaNative for a new favorite recipe! Made for 2010 Football Pool in honor of your week 2 win!
Coat bottom and sides of 10-inch cast iron skillet with oil; heat in a 450 degree oven for 10 minutes. (Skillet may smoke a bit).
Whisk together buttermilk and egg. Add cornmeal, stirring well to blend.
Stir in baking powder, baking soda, salt, and sugar.
Pour batter into hot skillet.
Return skillet to oven and bake at 450 degrees for 15 minutes, or until lightly browned.
Serve with organic butter.