Pikake21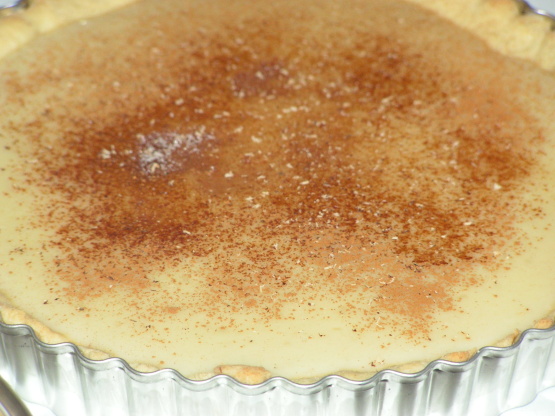 This is a recipe that was given me by a friend from South Africa. There is nothing complicated or sophisticated about it. Maybe that's why it tastes so good. Be sure to make this if you have kids.

I made this tart for Easter dinner and it was easy to make and delicious. I halved the recipe and used a single 10 inch springform pan. After coming to room temp, I placed the tart in the fridge for an hour. The fridge helped firm up the tart and I was surprised how nicely it sliced. I will be making this again! Thanks for posting.
Preheat oven to 400 degrees F.
For crust: Cream butter and sugar.
Add eggs, then flour, salt and baking powder.
Using ½ of dough, press into pie plate.
Repeat with other half of dough in other pie plate.
Prick all over with fork and bake for 10 minutes.
No further baking is required.
For filling: Boil milk and butter, add remaining ingredients (thin flour and cornstarch out with milk first).
Mix well.
Whisk until custard thickens.
Pour into baked shells and sprinkle with cinnamon and sugar.