Mike and Charlie's Restaurant Babe's Delight
diner524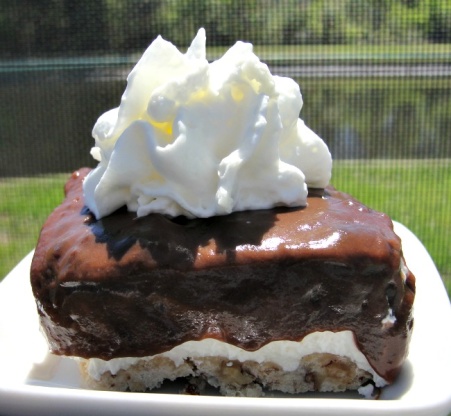 Mike and Charlie's was a popular Austin, Texas restaurant in the late 1970s. This dessert recipe was posted in the Austin American-Statesman newspaper and I clipped it. The restaurant closed before I ever got to eat this dessert; but luckily I can make it myself. In the newspaper post, it was noted that this recipe could be called a Dieter's Delimma.
OMG!!! So yummy, chocolate, creamy, nutty deliciousness!!! My ex-mother-in-law, made this dessert, but she called it "Better then Robert Redford", lol!! Really ages me!! Since both of my kids are away and in college, I made 1/2 of the recipe for DH and me. Followed it as written other then scaling it back to 1/2 of the recipe. Thanks for sharing the recipe whitan!! Made for Spring PAC 2013.
Crust:.
Mix the butter, pecans, and flour together with your hands and press the mixture into a baking dish.
Bake at 350-degrees for 20 minutes. Allow to cool.
Filling:.
Mix together the cream cheese, whipped cream, and powdered sugar, and spread it over the cooled crust.
Topping:.
Beat the instant pudding with the cold milk until thick (or use your favorite recipe for a cooked chocolate pudding as a substitute for the instant pudding).
Spread it over the filling layer.
Refrigerate and allow to set up for a couple of hours before serving.
Put a spoonful of whipped cream on top of each piece before serving.