Middle Eastern Tuna Salad Pitas
gailanng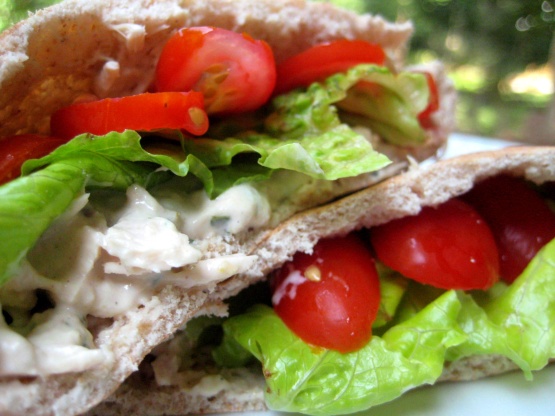 This isn't any old tuna salad sandwich. Filled with hummus (Middle Eastern chickpea dip), sesame oil, cumin and cilantro, this is a tuna salad like you've probably never had before. Pack it in pita pockets along with a slices of tomato and lettuce. I am not a cilantro fan, so I leave it out.

This was so good. I used freshly cooked tuna then mixed into the sauce with the lettuce. Put Chipotle hummus on the freshly made pita and ate it that way. Loved it.
To prepare tuna salad:
Combine all ingredients except pitas, lettuce, and tomato in a medium-sized mixing bowl and stir well to mix.
Taste and add salt and more cayenne, if desired.
Salad can be prepared 1 day ahead. To store, cover and refrigerate.
To assemble sandwiches: Divide tuna salad equally and mound in pita pockets. Add several tomatoes slices and a lettuce leaf to each pocket. Arrange sandwiches in a basket or on a serving plate. Serve immediately.