Rita1652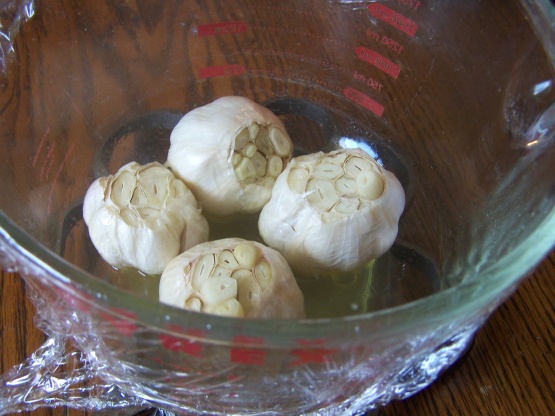 Easy peasy roasted garlic, why not give this a try? From recipecottage.com. It's nice to have more than one head, this goes quickly into dips, for veggies,pizzas, pastas, chicken, most anything.

The oven is WAY better. I found the garlic way to sticky to mash. Does not have the same texture of the oven or the color, but it was well worth the try. Thank you for posting.
Cut tips off whole garlic heads, keeping heads intact.
Place all ingredients in a 4 cup glass measure.
Cover tightly with microwave plastic wrap.
Cook at 100% for 6 to 8 minutes, longer if bulbs are large.
Remove from oven.
Let stand, covered, for 10 minutes.
Peel when cooled.
Refrigerate any leftovers.