Microwave Pineapple Upside-Down Cake
RockCook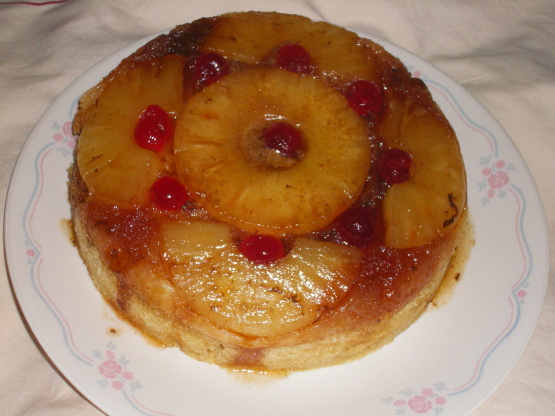 This is the Day to Day Cookery version by IM Downes. It is a beautiful cake, arguably better than the oven-baked version.
Grease an 18cm round dish and place a greased circle of paper in the base.
For the caramel, cream brown sugar and 2 tablespoons butter and spread over base.
Arrange a slice of pineapple in the centre with half circles around it. Fill spaces with cherries.
For the cake mixture, beat 60g butter and sugar to a cream. Add egg and mix carefully without beating.
Add the sifted dry ingredients alternately with the milk and mix.
Pour mixture over caramel and fruit.
Cook on MEDIUM-HIGH (70%) for 6-7 minutes or until just firm in the centre. (I had to put mine on for an extra 2 minutes and 50 seconds, it will vary according to your microwave).
Allow to stand for 2-3 minutes before turning out onto a plate.
Serve hot with custard or cream, or warm for morning tea.