Susie D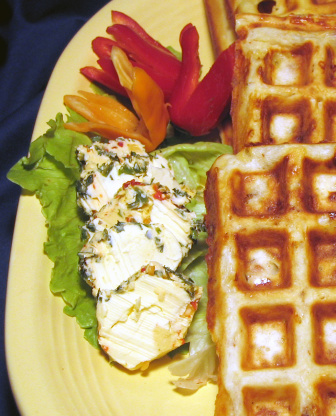 Use this butter on chicken breasts & broil them. Also use on Bread or Bolillos (Mexican buns) or put a dab on your veggies.Great on Hamburger buns or steaks. Many used and it will keep in the freezer for over a month.

This is simply wonderful and I can see so many uses for it. I finely chopped one green and one red jalapeno and then proceeded with the recipe. After mixing I formed it into a log, rolled in parsley flakes, and then froze wrapped in wax paper. I thinly sliced it and served with Bacon Waffles #141878 for dinner. I loved it! I plan to use the rest on chicken breasts or a steak. Thank you Bergy for a wonderful addition to my kitchen.
Place ancho chili in a small bowl and pour the boiling water over it (if using fresh jalapeno omit this step) Drain the chili& place chili in a blender with 1 1/2 tbsp of the soaking water, discard the rest of the soaking water, and process until very smooth, cool completely (with the jalapeno just process until smooth) Beat butter until fluffy.
Beat in the garlic& oregano.
Graduallybeat in the chili to blend throughly.
Mold into a small bowl, cover& refrigerate to firm.