Mexican Chicken - Paula and Jamie Deen
Kim M.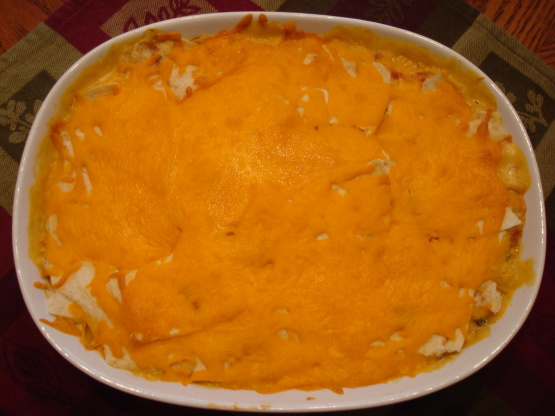 Wow I couldn't believe when I went looking for this on Zaar it wasn't here! This is delicious.

I love the basic recipe for this dish (the soups, rotel tomatoes and chicken) and have used it in a variety of different ways. Like some of you, I didn't care for the soggy flour tortillas and substituted lasagna noodles. I thought it was much better. I also have made it using deep fried or baked large flour tortillas made into bowls like you make for fried ice cream. Microwave the soups, tomato and chicken mixture until bubbly hot and fill the bowls and top with cheese. Put in oven until cheese melts. Place tortilla bowls in bowls and garnish with a dab of sour cream, chopped green onion and a few diced tomatoes for the colors of the Mexican flag. It's also good with corn tortilla chips crunched up and mixed in before it's heated. They add some more taste and work as a thickener. Last year I made it in a casserole dish without the flour tortillas and the chicken cut up finer for a hot dip at a Super Bowl party. I cut small flour tortillas into six pieces like a pizza and deep fried them for dipping chips. Nobody touched anything else until it was gone! P.S., if you don' have rotel tomatoes, salsa works just as well and if you don't have cheese soup, make a thick cheese sauce.
1

(10 3/4 ounce) can cream of chicken soup

1

(10 3/4 ounce) can cheddar cheese soup

1

(10 3/4 ounce) can cream of mushroom soup

1

(10 ounce) can tomatoes (can use Ro-Tel tomatoes)

4

cups leftover cooked chicken

1

(11 1/2 ounce) package flour tortillas

2

cups shredded cheddar cheese
Preheat the oven to 350 degrees F. Spray a 13 by 9-inch pan with the cooking spray.
In a large bowl, stir together the 3 kinds of soup and the tomatoes. Stir in the chicken.
Layer the tortillas and the chicken mixture in the pan, beginning and ending with tortillas.
Sprinkle the cheese over the casserole and bake for 30 minutes.
Enjoy!