Meatballs in Rich Mushroom Sauce
Zurie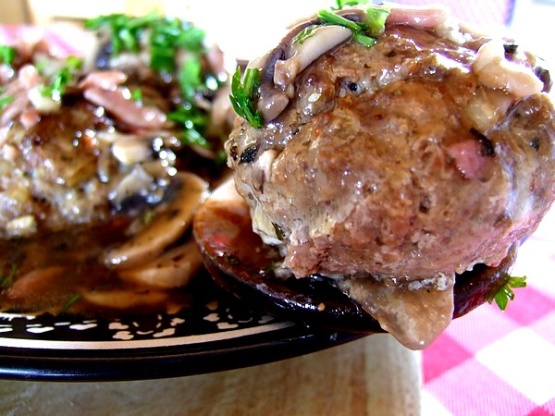 Easy, family pleaser. With mashed potatoes is filling and tasty. The meatballs can be frozen for up to 2 months, but the sauce is not suitable to freeze. This recipe is not suitable to microwave. From Australian Women's Weekly Best Ever Slimmers Recipes.

Top Review by Zurie
As the stars say: very good!! I doubled your recipe. I also added 1 beaten egg, because I am BAD at meatballs and was worried they might break up without the binding effect of an egg!! I added a little more seasoning (no extra salt) to the meat mixture, and made my meatballs quite large because that is how my husband prefers them! The sauce was very nice, not rich at all, just sort of meaty!! I found your recipe among the "almost forgotten" ones and cannot understand why it flew under the radar for so long. Thanks for a very nice comfort food.
Combine, onion, garlic, sauces, mince and breadcrumbs in bowl. Mix through. Shape tabelspoonfuls of mixture into balls, refrigerate in a single layer 30 minutes.
Heat oil in frying pan, add meatballs, cook gently until well browned all over and cooked through. Remove meatballs from pan and keep warm.
RICH MUSHROOM SAUCE. Add bacon and mushroom to pan where the meatballs were cooked. Stir constantly over heat until mushrooms are cooked. Blend cornflour and water together. Add cornflour and water mix, stock cube and basil to mushrooms. Stir constantly over heat until sauce boils and thickens.
Add meatballs to sauce, simmer, uncovered until heated through.
Serves 4.
Approx 230 cal (965 kilojoules) per serve.