Brenda.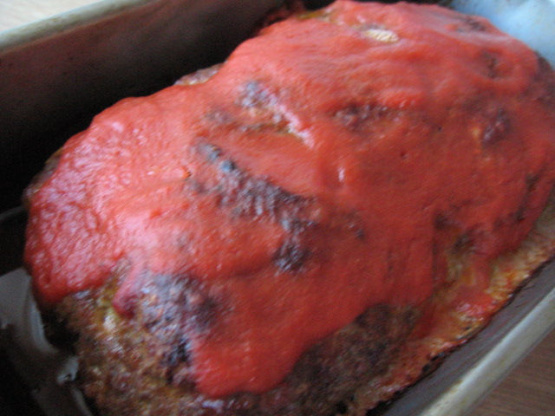 I came up with this recipe while working at a small town restaurant. I hated even the idea of, as my mom calls it, "Meat-Ralf" but the owner wanted to add it to our menu. I set out on a mission to create an edible meatloaf. To the delight of our patrons it wasn't only edible it was delicious. Even my mom loves it. For a gourmet twist I substitute ground sausage with slices of Italian sausage links, also diced canned tomatoes and fresh basil leaves instead of tomato sauce.

Used the leanest ground beef that I could buy & that seemed to work well enough for me! Instead of a loaf pan, I formed the prepared meafloaf into a shallow dome a round ceramic baking dish & it was done in about 65 minutes! We don't usually have a tomato sauce topping, so that was a nice change of pace! Thanks for sharing your recipe! [Made & reviewed for one of my adoptees in this Spring's Pick A Chef]
Preheat oven to 350.
Mix ground meats together until blended well. If using Italian sausage slices brown first and add last to keep them from falling apart.
Mix egg, cream, and 1/2 cup tomato sauce (or diced tomatoes and fresh basil) together then mix into meat. Using your hands seems to be the easiest way, don't forget to wash and remove your rings.
Add breadcrumbs, finely minced garlic and onion, Worcestershire sauce, salt, and pepper. Don't be afraid to use the cayenne powder its not enough to burn you and it really gives the dish a lot of flavor. Mix well.
Form into a large loaf pan. Bake at 350 for 1 hour, top with remaining tomato sauce or ketchup, dust with salt and sugar, and bake for an additional 15 to 20 minutes.
You can use 2 small loaf pans if you reduce the baking time by 15 minutes.
Serve with your favorite fresh veggie or garlic mashed potatoes.