Mauritian Roti with fish sauce ala Denise
Peter J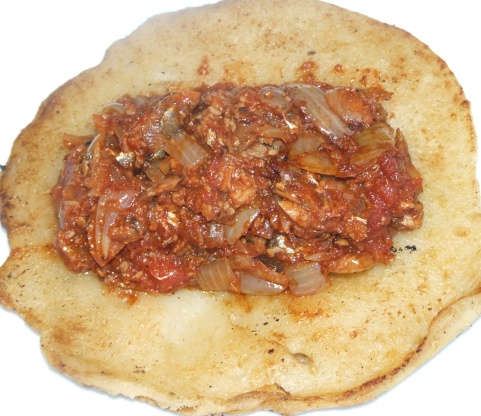 This is a favourite dish of mine. I've decided to share it so that everybody can enjoy it as much as I have.

I didn't make the roti... only the sauce. I was looking for a recipe for canned mackerel in tomato sauce. Not much to pick from. I ate this in puffed pita bread and it was OK. I'm not a big fish fan so I was worried after tasting the sauce. But when coupled with the bread the flavor mellowed out some.
Roti Ingredients

2 -3

cups plain flour

1

pinch salt
hot water, to make a consistency of dough

Fish sauce ingredients

2

medium diced onions

1

clove crushed garlic

2

diced peeled tomatoes (half a 425g can)

1

can mackerel in tomato sauce (can be bought at Asian food shops)
Mix the flour, salt, butter/margarine and add the hot water until the dough pulls away from the spoon.
Don't make the dough too dry or too wet.
The secret to good roti is to make the dough just right.
Roll the dough into roughly crepe size pieces and brush with oil.
Fold the roti into little square"packages".
Brush the"packages" with oil again.
Roll the roti out again into crepe size pieces.
Oil both sides of the roti and fry (NOT deep fry) in a pan until slightly brown.
Place in a bowl and repeat the above process with the other"packages" and place the bowl aside.
Fish sauce: Fry onions and garlic until browned.
Add the tomatoes and their juice and the can of mackeral and it's juice.
Simmer until cooked to taste.
Serve roti flat on a plate and then spread the fish sauce in the middle of the roti.
The person then rolls his own roti and enjoys.