Master Class Barbecue Sauce
twissis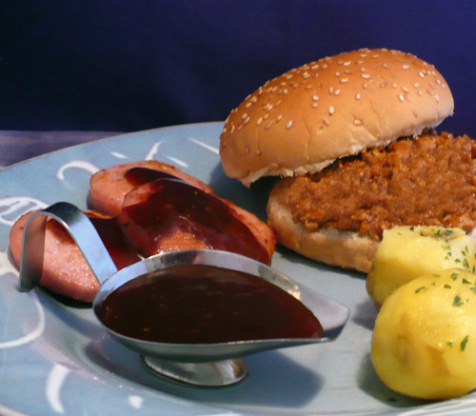 Got this off the web somewhere and modified it. It's the best barbecue sauce we've ever had, hands down! Adjust the cayenne to taste, we like it HOT!

Made for Spring PAC 2010, this BBQ sauce deserves its *Master Class* name-tag in all ways as its combo of sweet, tart & spicing works to perfection. I assure you this is high praise from this lover of BBQ who in past yrs enjoyed eating some of the best BBQ found in the Dallas, San Antonio & Austin areas. Even allowing for my BBQ passion, 6 cups is a lot of BBQ sauce for 2 people .. but it was easily reduced to 1 1/2 cups. My orig intent was to use it on spare ribs, but they were sold out at our grocery store .. so I used it as an ingredient in Recipe #378290 & as a sauce atop bacon-flavored bologna slices. Served w/potatoes & a cucumber salad, I felt home again in Texas. Thx for sharing this excellent recipe w/us. Yum! :-)
Combine all dry ingredients in a nonreactive saucepan. Blend in the vinegar, honey, Worcestershire sauce, and the soy sauce. Bring the mixture to a boil.
Stir in the ketchup, being careful that the mixture doesn't pop and splatter. Reduce the heat and simmer for 30 minutes, stirring occasionally.
If canning, pour sauce into warm sterilized jars and process in a water-bath canner for 5 minutes. Otherwise, put into containers with tight-fitting lids and store in refrigerator.