Mashed Potatoes W/Olive Oil & Sun-Dried Tomatoes
lazyme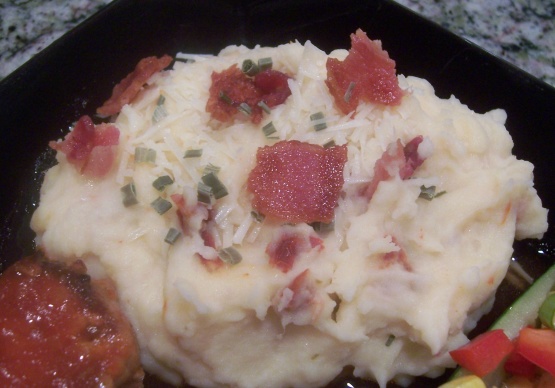 Try this tasty way to "dressup" ordinary mashed potatoes & add flavour zip to what you see as a plain meal. It was suggested as a side-dish by the National Pork Producers Council & I esp like it w/skillet browned smoked pork chops. Enjoy!
Boil 1 pound of potatoes (peeled & halved) till cooked through. Drain & allow to dry for 10 minute
Combine 2 oz olive oil, 2 oz unsalted butter & 2 oz whipping cream in sml sacuepan & warm over med heat.
Mash potatoes, add warmed liquid to them & mix well w/a wire whisk. Add salt & pepper to taste & cream cheese as desired.
Add 2 oz oil-packed sun-dried tomatoes, mixing just well enough to evenly distribute, & serve immediately.
NOTE: To "dress" b4 serving, any of these ingredients or a combo all work well as options -- bacon, chives or a dusting of Parmesan cheese w/paprika.