Linajjac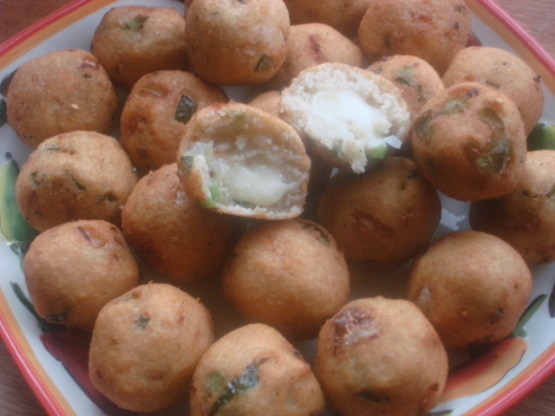 Another one of Alton Browns, interesting but quite good, recipes.

This recipe needed to be kicked up lots of notches. I added way more jalapenos, hot sauce to the "masa dough" garlic powder, extra s&p & I also added jack cheese cubes to the dough. Dipped in enchilada sauce. I will make this again and again. A hit in my house. :)
*Cook's Note: If using a Good Eats tortilla recipe, decrease milk to 1/3 cup.
Tear the tortillas into small pieces and place in a food processor. Add the milk, egg, salt and pepper. Process until a chunky paste forms and you are able to squeeze a ball together in your hand, stopping to scrape down the sides of the bowl, as needed. Transfer to a mixing bowl and stir in the onions and jalapenos. Set aside.
Place the oil into a 5-quart pot or Dutch oven and heat to 365 to 375 degrees F.
Roll the dough into 1 to 1 1/2-inch balls or scoop with a small, 2-teaspoon ice cream scoop. Fry 6 to 8 at a time in the oil until crisp and golden brown, approximately 2 to 3 minutes. Transfer to a cooling rack set over a sheet pan and allow to cool 1 to 2 minutes before serving.