Rita1652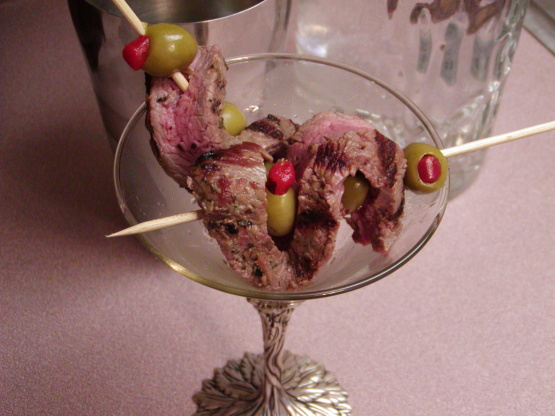 I adopted this recipeafter the first 2 reviews posted. Tweeked it a tad! So PLEASE do give it a TRY! Presentation alone will awe your guests.

Tried this on a whim and it was superb. I didn't even do the presentation and it was still a hit.
3

tablespoons minced ginger

2

tablespoons vegetable oil
1⁄4 cup dry vermouth

2

garlic cloves, crushed
1⁄2 teaspoon dried basil
1⁄2 teaspoon dried marjoram
1⁄4 teaspoon salt

2

rib eye steaks (5 oz each) or 2 sirloin steaks (5 oz each)

6

pimento stuffed olives

1

dash Angostura bitters
In a shallow dish, combine all ingredients except meat and olives.
Score steaks with shallow crisscross cuts on one side; add to marinade.
Marinate at room temperature for two hours; turn several times.
Remove steaks, save marinade.
Broil or place on hot grill about three inches from heat.
Cook four minutes per side for rare; six minutes for medium; baste meat several times with marinade.
Garnish with olives on a toothpick.