Mean Chef's Espresso Flan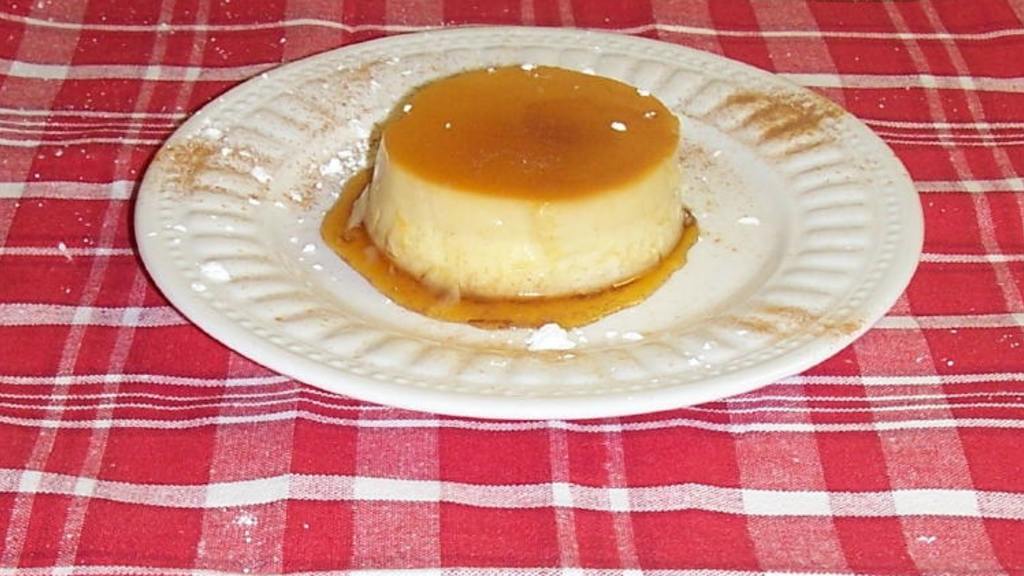 Ready In:

1hr 15mins

Ingredients:

11
directions
In a large bowl, whisk together egg and egg yolks.
While whisking add the sugar slowly until fully dissolved.
Add vanilla, heavy cream, milk, and salt and continue to whisk.
In order to get rid of air bubbles in mixture, transfer to large bowl through a fine strainer.
In the bottom of 6 (1/2 cup) ramekins (small ceramic custard cups), place about 1 1/2 teaspoons of caramel.
When all 6 ramekins have caramel at the bottom, brush each bottom and side with melted butter to secure flan and yet allow it to be removed easily.
Fill each ramekin with the flan mixture, SLOWLY to avoid air bubbles, until about 2/3 full.
Preheat the oven to 350 degrees F.
Place almost full ramekins in shallow baking pan and then fill the pan with boiling water.
The hot water bath will allow the flan cups to cook evenly in the oven.
Right before placing pan in oven, top each ramekin with a tablespoon of hot espresso.
Bake for 40 minutes.
When removing pan from oven, allow the ramekins to remain cooling in their original water bath.
Ramekins can be covered and refrigerated overnight if necessary.
Before serving, place ramekins in another shallow pan of warm water to loosen the custard.
Run a thin knife around the inside edge of cup to further loosen, place a plate on top of ramekin and flip onto plate to serve.
For the Caramel: In preheated saucepan over medium heat, pour in water and bring to boil.
Add sugar and stir until caramel brown (about 4 minutes).
Remove from heat and allow to cool for about 2 to 3 minutes.
Join The Conversation
Very very good, and simple to make. I didn't have enough sugar for the caramel, so I used ice cream topping. Also added a little extra espresso, which worked out great. I covered the ramekins and put them in the fridge overnight and they came out delicious. My family particularly liked the fact that this flan did not seem so "eggy" due to the espresso flavoring. I am the first in my family to attempt making flan, and this recipe made it a great success!

WOW WOW!! this was great! I hate drinking coffee drinks, etc. but loovvve food with coffee or espresso flavoring. directions were great and easy to follow. addes a few more Tabelspoons of espresso for a little more flavor. I cheated on the caramel (as i wanted to hurry up and finish it so i could taste), and used ice cream topping. Boyfriend loved as well, and he hates most sweets.

This was my very first time to make a flan. Your instructions were simple. I followed the recipe to a 'T', except I didn't strain for bubbles. I let it set while I made the caramel. It turned out perfectly smooth and wonderfully delicious. A definate must for coffee lovers. Thanks Meanie, for another great recipe. **note** Although I don't post a lot on the boards anymore, I do miss seeing you on here. You've always had some really great tips to share.

I was looking for a flan recipe that used eggs and cream, rather than milk, and finally found one in this. I only made two minor substitutions: I didn't have whole milk but mixed what I had on hand (1%) with cream to make the cup needed and we don't have traditional coffee/espresso on hand, so I mixed up some imported instant espresso I use for baking. To make pouring into the ramekins easier, I did the straining, step #4 , into my 8 cup pyrex measuring bowl. Letting it rest while making the caramel helped for eliminating bubbles (I didn't know why the caramel cooking step was sequentially where it was in the recipe, but found that making it last, even though needing it before pouring, worked great for letting the egg mixture settle for a moment). I was a little cautious with the espresso, next time I will be more heavy handed with that. :) This made more than 6 servings for me, which is always good for a great flan recipe like this one. My Easter dinner guests loved this!