Marinated Goat Cheese Spread / Dip
Katzen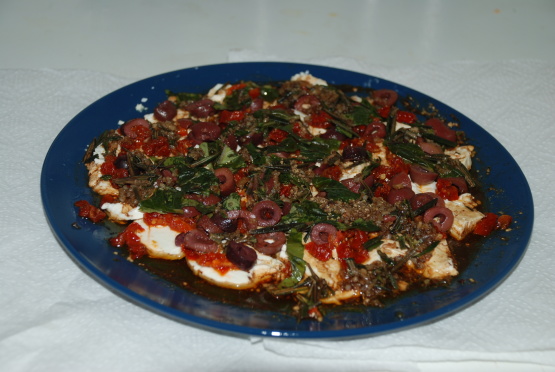 A decedent spread that wins raves at potlucks and dinner parties. Rich and flavourful, it's perfect served with whole grain crackers or grilled bread. Thanks to my co-worker Melanie for the AWESOME recipe! Note that 1/2 cup of pesto can be substituted for the fresh herbs - it saves time and waste if you don't have a use for the rest of the herbs!

Top Review by surus
This is excellent and a nice change from the usual cheese spread. The only change I made was to use roasted red peppers instead of sun dried tomatoes. I spread the cheese onto the bottom of a glass pie plate instead of slicing it because it was crumbling when I tried to slice it. I might try some chopped artichoke hearts on it at some point. Everyone loved it.
Arrange cheese in a shallow dish in a single layer. Scatter olives, sundried tomatoes and basil over and around it.
In a small bowl, combine vinegar, oil, garlic, rosemary, thyme, and pepper. Pour over cheese.
Marinate a few hours in the fridge or overnight. Serve at room temperature with grilled or fresh bread.