Hey Jude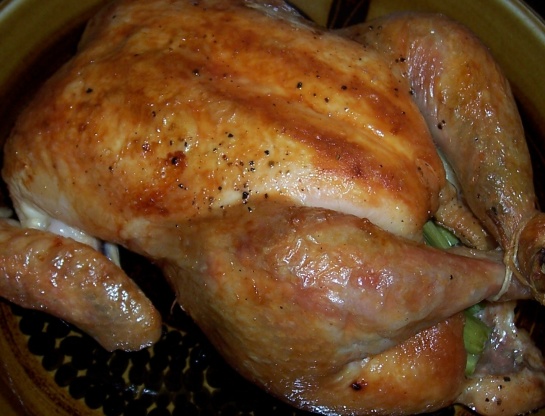 Makes a wonderful moist chicken with crispy skin. Vegetables stuffed inside cavity add great flavor.

wow!!! We Loved it! Very easy..very delicious!!!I omitted the garlic,,actually by mistake...did everything else except sprinkled with McCormack Rotisserie Chicken Seasoning,,ran out of Belles...i like the greek flavors of lemon and a bit of oregano and lemon melted into the butter,,,my 7 lb or so roasted in about 11/2 hrs after lowering heat, Just a foolproof recipe!!!!....UPDATE<<<< I always use this recipe..for the cooking techniqueI...I recently made 2 6ib chickens as the recipe describes.. but i slathered them with a little olive oil and butter,,,sprinkled with thyme...they cooked in about 1 1/2 or so hours..always perfect.... I use different herbs for different meals....love this recipe....
Preheat oven to 450 degrees.
Sprinkle salt and pepper inside and outside of chicken.
Place celery, garlic, onion and parsley in cavity of chicken.
Brush all over with butter.
Cut up additional celery and onion and place under chicken.
Place in roasting pan and bake at 450 for 15 minutes.
Reduce oven heat to 425 and continue roasting until leg pulls apart easily- approximately 45 minutes to an hour more.
Drippings make wonderful gravy.