Kree6528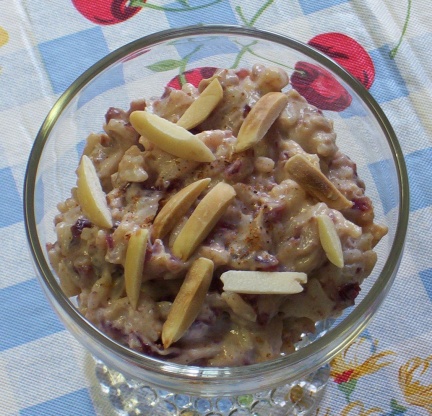 This fantastic rice pudding requires no baking, and each serving contains only 22% fat. I simply cannot put into words how deliciously creamy this pudding is. Don't let the tofu scare you off. If you like maple, you have to give this a try. I would recommend including the dried cranberries. They add even more depth and sweetness. I got this recipe from my friend Bevrs on the IBS boards at www.helpforibs.com.
Process tofu and maple syrup in a food processor or blender until smooth.
Add vanilla, cinnamon, and allspice and process until combined.
Add cranberries and pulse to chop. Stir in rice.
Transfer mixture to a serving dish. Sprinkle with nutmeg and almonds.
Cover and refrigerate until chilled.
NOTE: I like to toast the almonds in the microwave by spreading them on a microwave-safe plate and nuking them on HIGH for 45 seconds, stirring them, and continuing to nuke them in 20 second increments until they are fragrant and brown.