Rita1652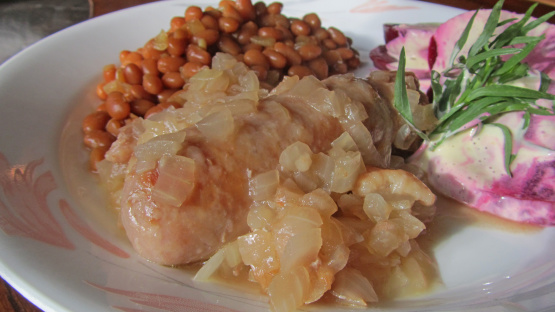 Adapted from Celtic Cookbook. Posted for ZWT6.

This was easy and tasted. I made this using chicken sausage which was good. I did flour but didn`t see why? I wondered if oil was needed to place in the pan before frying the sausage. So I did half with an oil coated pan and 1/2 dry. Oil won out! I didn`t see any reason to coat the sausage with flour. It may have thickened the sauce ever so slightly. The port got lost in the sauce. Stock I filled just to half way up the sausage. We had plenty of onions, (I used two vidalia not four). But all in all it was good. Thanks made for ZWT #8 Team Lively Lemon Lovelies.Cheerio!
Prick sausages all over.
Dust sausages with flour.
Place in a skillet and saute until lightly browned.
Add onions, wine and stock.
Cover and cook over low heat for 1 hour.
Season if needed.