Rita1652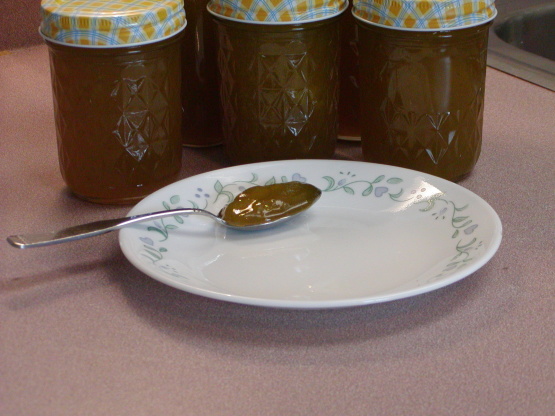 A taste of the tropics! Delicioso!

I blender the mangos and peppers in my vita mix (blender). Then added it to the pot with the vinegar and gradually added powdered pectin while stirring.(I didn't have the liquid pectin so it had to be made different as directed from Sharon `s). Brought it to a full rolling boil then added the sugar (I used 5 cup which was plenty) all at once stirring all the time and brought to a full rolling boil for one more minute. This made 6 cups of jelly. This would be wonderful on grilled chicken or pork. I wish I planned the picture better and made it with chicken. Thanks Sharon keep them coming.
3

cups ripe mangoes, diced small

6

jalapenos, diced small
1 1⁄2 cups cider vinegar
6 1⁄2 cups sugar

1

(6 ounce) bottle liquid pectin
Boil 5 clean jelly jars while making the jelly.
Combine all ingredients except the pectin in a large saucepan and boil for 30 minutes.
Allow to cool for ten minutes.
Stir in pectin and boil for 10 minutes or until jelled.
To test, dip a metal spoon in at right angles to the surface of the jelly and lift it about 12 inches above the surface.
While still at right angles, allow the drops to"sheet" off.
If they do not come together and sheet off, continue boiling and test again.
Remove the jelly from heat, skim, and allow it to cool.
Carefully ladle into hot sterilized jars.
Clean the outside of each jar around the top with a hot cloth dipped in boiling water.
Seal with sterilized lids.
Enjoy!