Mel C.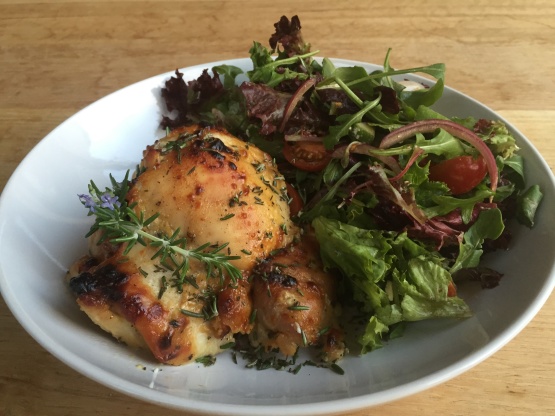 I found this recipe on Pinterest and had to try it. This is an easy dish with alot of flavor. Enjoy!

This chicken is not "nasty stuff" as some others have written and if you thought so it is probably because you did not use legitimate maple syrup but Mrs. Butterworth's!! And if you did use REAL maple syrup and still did not like it, then just say it was not your cup of tea. Simple as that.
Preheat oven to 450 degrees.
Mix together dijon mustard, maple syrup and rice wine vinegar.
Place chicken in an oven proof baking dish and sprinkle with Salt and Pepper. Pour the mustard mixture over them, turning the thighs in the mixture so they are fully coated.
Bake for 40 minutes or until the meat is cooked (155 degrees). Halfway through baste the chicken with the sauce.
Let the chicken rest for 5 minutes before serving. Then sprinkle with fresh rosemary. Enjoy!