Make Ahead Breakfast Wraps (Oamc)
loof751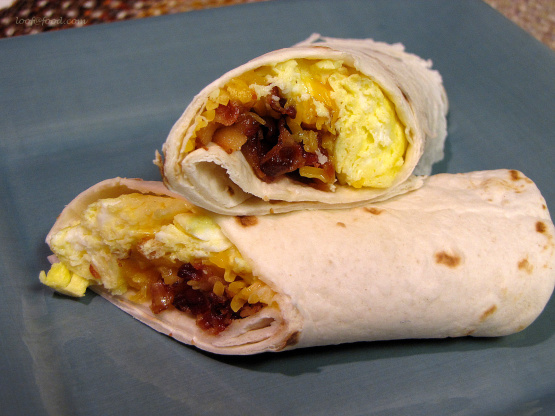 These are quick breakfast wraps that can be made ahead for busy mornings. My kids love the breakfast sandwiches at fast food chains so this is an economical and healthier alternative. This is my own recipe, and I don't measure, so adjust the quantities to suit your tastes. These are small because my kids are little and not big eaters, so one is enough for a child or an adult who is a light eater. A serving size for an adult is two wraps.
12

eggs (or equivalent egg substitute)

8

ounces low-fat milk

12

slices turkey bacon
1 1⁄2 cups shredded cheddar cheese

12

low-carb whole wheat tortillas (8-inch)
salt and pepper
cooking spray
Cook bacon in a pan or on a greased rack over a sheet pan in the oven at 350 until done.
Mix eggs (or egg substitute) with milk.
In a large pan over medium heat, coat with cooking spray and scramble eggs. Allow them to cook until they are moist and tender but not dry. Add salt and pepper to taste. Allow to cool.
To assemble, lay a tortilla flat, place one scoop of scrambled eggs, 2 tbs of shredded cheddar cheese, and one slice of bacon (I use a 1/4" measuring cup). Roll into shape.
OAMC: Assemble wraps while contents are still warm. Wrap with waxed paper and allow to cool. Place into resealable bags, label, refrigerate or freeze.
To reheat: Place wrap with waxed paper into microwave for 30 seconds on high, more if needed as microwave ovens vary greatly in power.