Katzen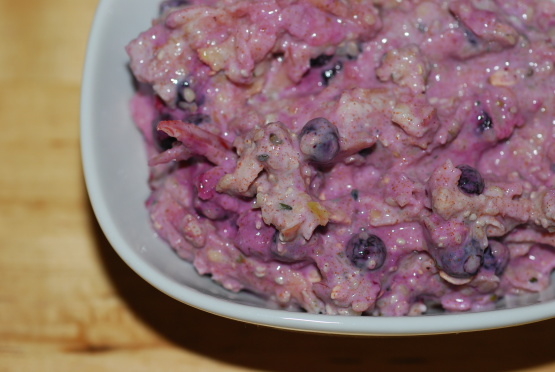 This is a recipe by Theresa Albert from her book "Ace Your Health". She pinky swears that you'll understand the magic by the third day! Note that the white chia seeds are known as "Salba", and if you do a web search on "salba" you will find plenty of sources for this fantastic fibre and phyto power source! I just picked up a bag and plan to stir up a batch.
This stuff was awesome!!!!! My kids have been sick with a sore throat. They are 3 and 4 years old. They are eating, but not much. I made this, and they loved it!!! This is going to be a great addition to our breakfast, or just for a healthy snack for the kids. The only thing is that I did not have chia or hemp seeds, or almonds. I usually have almonds on hand, but was out. I have never had chia or hemp seeds. I will have to buy some of those. But, everything else was delicious. I added sunflower seeds instead. Plus, I had jam, but did not want to use that. I used honey instead, to give it a little more sweetness, and healthiness. Thank you so much for this recipe.
Mix all of these together, and you have the right amount of protein (about 10 grams), fibre, and nutrients, to set you up for the day!
Serve immediately or leave, covered, in the fridge, for up to 3 days.