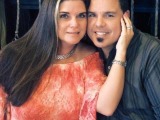 This recipe came with my Rival crock pot. The meat loaf is very moist and tender on the inside and a little bit crunchy around the outer edges. I cook mine on low for 9 hours.
Directions
Reserve 2 T. ketchup.
Combine ground beef, eggs, oats, soup mix and remaining ketchup.
Shape into loaf and put into crock pot.
Top with remaining ketchup.
Cover, cook on low 8 - 10 hours.