Rita~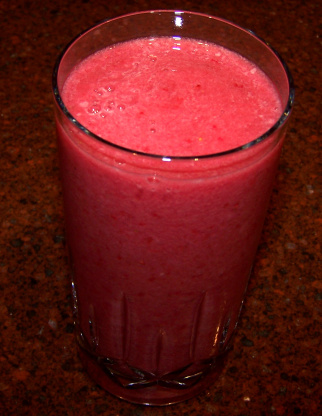 This is a delicious magenta colored smoothie that I made up tonight w/ ingredients I had on hand. It turned out quite delicious so I figured I would try sharing. I didn't measure ingredients when mixing so I have estimated them, but I think they are fairly close and I am sure can be played w/ to meet personal tastes. Its also a non-dairy drink which is a bonus! And its very nutritious. Recipe Zaar tries recognizing the pomegranate blueberry juice as just bluberry juice and leaves it out of the nutrition info, but that is where many of the health benefits are.

Wonderful! I skipped the sugar, and since I had only pomegranate juice, added a couple handfuls of blueberries. It tasted wonderful even without sieving! Of course, then I had raspberry seeds stuck in my teeth ;-)
Blend all ingredients in blender on high, until smooth.
Push mixture through sieve to remove most of the seeds.
Enjoy!