Lainey39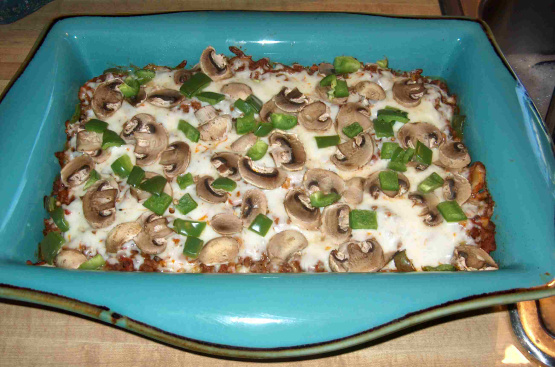 My dad used to make this on Saturdays and I have just modified it a bit to suit our family. Kids love it.

Update: I had just enough leftover home made macaroni and cheese to use for my usual half of a recipe. It worked wonderfully for the macaroni in the recipe. I just brought heated it so it was pliable enought to stir in the egg and cheese. I have a grandson who is in a phase of eating only macaroni, pizza, tomatoes, or mashed potatoes. This recipe covered 3 out of 4. I halved the recipe easily. Because he is so picky, we only topped this with tomatoes and cheese. I did manage to sneak in green peppers and onions into the ground beef mixture. He really liked this. I will make this again and again and again.....Thanks Rocket
Cook macaroni until just tender, drain.
In large skillet, brown meat with onion, garlic, 1/2 of the green pepper, 1 1/2 cups mushrooms; drain off fat.
Stir in pizza sauce, oregano and salt; simmer for 5 minute.
Combine eggs, parmesan cheese and macaroni.
Cover bottom of greased 13 x 9 baking dish with macaroni mixture.
Spoon meat mixture evenly over macaroni; top with mozzarella plus remaining green pepper and mushrooms, tomato and olives.
Bake at 350°F for 20 minutes.
Let stand for 10 minutes before serving.
Note: Any toppings can be used; the ones listed just happen to be our favorites.