alligirl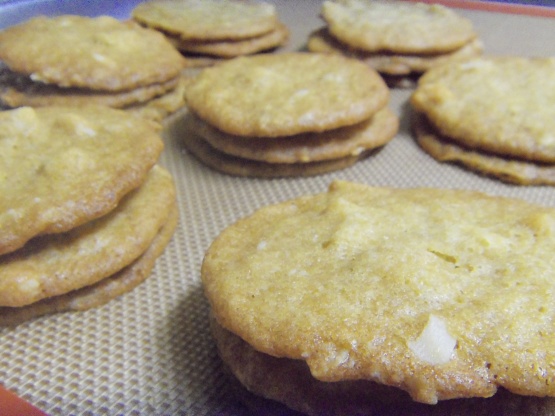 Friend from work makes these and they are delicious. I have not personally made them but have had them to eat.

Loved these cookies! I used all butter in the 1/2 recipe I made, so mine were a bit thinner, but no matter, still tasty! I baked approx. 1/2 of the 1/2 batch I mixed up and ended with 24, so I should get at least as many out of the ones still in the fridge. I also appreciate a cookie that makes a pretty large batch, as there are always willing 'helpers', for sampling, etc! Thanks for sharing, Maryland Jim!
Combine the flour, baking soad and salt.
In a large bowl, cream the vegetable shortening and two sugars. Beat in the eggs one at a time, beating well after each addition. Beat in the vanilla extract and lemon juice. Gradually blend in the dry ingredients. Fold in the macadamia nuts and the oats. Cover and chill for 4 hours.
Preheat oven to 325 degrees. Lightly grease 2 baking sheets.
Drop the dough by spoonfuls 1-2 inches apart onto the prepared baking sheets.
Bake for 15 to 18 minutes, untillightly colored. Cool.