Lunch Box Chicken Chowder
Pamela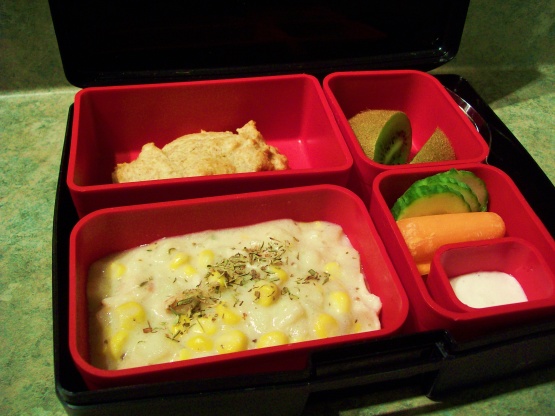 A freezer friendly lunch box recipe. Freeze in individual servings and then heat and pack in a thermos until lunch time.

Top Review by JESMom
This tasted really good, but it just didn't turn out...right. I followed the directions to the T and it was wwwaaayyy too thick. Because it was so thick, I only got one adult serving out of this recipe. I would definitely stop cooking the milk and flour mixture once it comes to a boil, rather then let it thicken before everything else is added.
Cook onion in oil until tender, about 4 minutes, stirring frequently. Sprinkle seasoning over onions and cook 1 minute longer then add milk.Cook and stir until mixture comes to a boil.
Add potatoes and corn. Bring to a boil, then reduce heat, cover pan and simmer for 10-15 minutes until potato is tender. Add flour to a bit of water and pour in and then cook until slightly thickened. Add chicken and heat thoroughly to serve immediately or cool completely and then freeze in single serve containers.
To serve:Defrost overnight, then warm in microwave until heated through. Pour into thermos and pack in lunch.
Great with a biscuit on the side.