Lucky Chicken With Oranges
Prep 20 mins
Cook 1 hr 10 mins

This was submitted for RSC #9. When I first made the recipe I used pan for a lid and that let a lot of steam escape so I increased the liquid and that is the recipe as posted. After making it a second time with a normal lid I found there to be too much liquid. I would suggest using 1/2 cup orange juice instead of 1 cup. This is nice served with rice or cornbread and a green salad. ------
Directions
Sprinkle chicken with salt pepper, cinnamon and cloves.
In a wide frying pan, heat oil over medium-high heat; add chicken and cook until well browned on all sides. Remove chicken to a plate and discard all but 2 tablespoons of drippings.
Add garlic and onion to pan and cook until onion is limp.
Return chicken and add orange juice, dried apricots, capers, wine, and vinegar. Top each piece of chicken with a 1 tablespoon of brown sugar.
Cover and cook over low heat until chicken is no longer pink near bone (about 45 minutes). Stir in almonds just before serving and garnish with orange slices and chopped cilantro.
Most Helpful
Oooh-la-la! I was Lucky I chose this recipe to try for the contest. This was a delicious sweet meal - and I like sweet! The chicken was very moist and flavorful. The sauce was marvelous (we poured it over the chicken and some mashed potatoes.)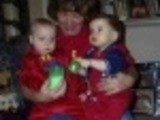 Other than substituting chicken breasts for whole chicken, the recipe was followed to the very end, & the resulting 'lucky chicken breast,' served over brown rice, was exceptional in every way! Another time I want to double the amount of sauce, just because I really, really liked the taste!!
All the yummy extras made this interesting. What I found was that some of the little goodies got lost in the liquid, I wonder if cutting down on the liquid might be a possibility? For ease of following directions, I would estimate the cook time for the initial browning, mine was 6 minutes for the first side and 5 minutes for the second. I think I would add the garlic toward the end of cooking the onion to avoid sorching. I also added the orange slices during the last few minutes so that they would be warm.