Low-Fat Scrambled Eggs W/ Avocado
Derf2440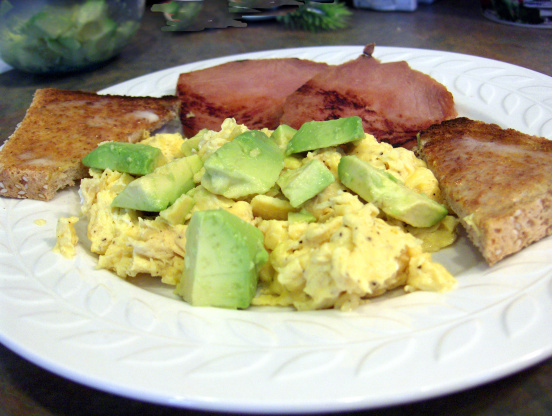 A lighter version of the classic. Who would've ever thought to sub the milk/cream for broth? The eggs are still very fluffy and flavorful and are much lower in fat.

Very plain and simple, so easy, I loved the combo of eggs and avacado and loved the touch of chicken broth instead of milk. DH did not like the avacado with eggs combo. Just made half a recipe for the two of us. I would make it again but just for myself, thanks for posting.
Separate eggs.
Add egg whites and 4 yolks in bowl.
Reserve remaining 4 yolks for an alternate use or discard.
Add the other three ingredients and wisk together thoroughly.
Cook over medium-high heat stirring constantly until eggs are done.
Sprinkle with salt and diced avocado.
Serve with toast.