Redsie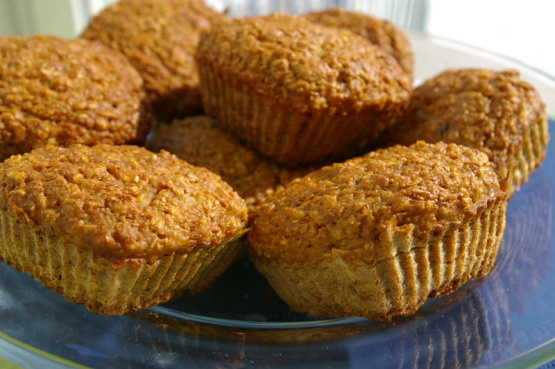 This recipe was originally posted by a Zaar member who is no longer active. When she left, this recipe went "up for adoption." Since I was a huge fan of Zenith and her recipes, I of COURSE leapt at the chance to adopt one of her wonderful healthy recipes. These have no added fat and will make a satisfying breakfast snack. Enjoy!

Top Review by Kasha
Nice, virtuous breakfast food! I did add some nutmeg and cinnamon, and a few raisins, which I soaked with the oatmeal in advance. I believe they come out to 2.5 WWpoints, 2 if you make them into 12 muffins, as I put mine in a square pan, and cut into 9. I chose this recipe for my husband, who told me he wanted to eat something with oatmeal, and he likes it, he did say he wanted additional stuff in it, like the raisins, which I agree with. And it is so good for you, all of that whole wheat flour and oatmeal, why not!
Soak oats in milk for 1 hour.
Combine all ingredients in a large bowl.
Spoon into a muffin pan that has been lightly greased or sprayed with nonstick spray.
Bake at 400 F for 20-25 minutes.
Variations: To make Oatmeal Raisin Muffins, Oatmeal Apple Muffins, or Oatmeal Chocolate Chip Muffins, add raisins/chopped apples/chocolate chips to the batter.