Low Fat Gazpacho With Twang!
Rita1652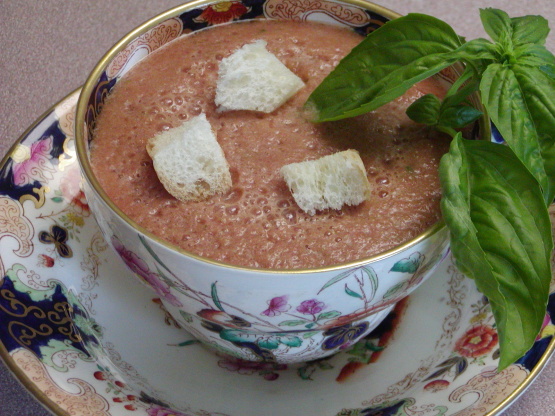 Yes, there are a ton of gazpacho recipes on th zaar. But this one is slightly different. Very yummy, from "Weight Watchers Miracle Foods" cookbook. As written, each serving (1 cup) is 2 WW points. I used diced tomatoes primavera (with carrots and zucchini) and olive oil infused with garlic. Feel free to use what you have, though. Cooking time is chill time.

Top Review by Lacer
This was right up my alley! I made it on Saturday and took a little taste, it was ok, then I didn't try it again until Tuesday after a good run. Wonderful! The flavors blended beautifully after it sat. I can't wait to try this with fresh tomatoes from my garden this fall. To add just a bit more protien, I did add a can of baby shrimp to it. Great recipe ladypit!
Mix the first 11 ingredients together in a bowl.
Check the consistency, adding a tiny bit more vegetable juice if you prefer it thinner.
Let chill for 30 minutes to 2 hours.
Ladle 1 cup soup into a bowl and top with 3 croutons.