Low Fat Celery Seed Salad Dressing
Parsley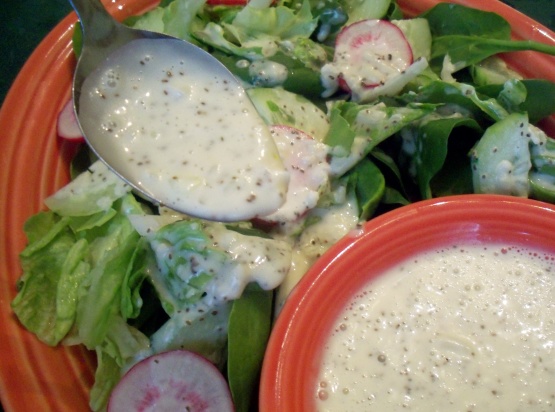 This recipe was in the latest issue of light & tasty.

I originally came across this recipe at the Taste of Home website, which they called it Celery Seed Salad Dressing Recipe. While this dressing is good, I also found it to be extremely sweet, plus I thought it had way too much celery seed, (it over powered the taste of the dressing), and it was slightly runny. But... my hubby and I thought it tasted a lot like Henri's Tas-tee Homestyle Dressing. I made this dressing for a 2nd time, modifying the ingredients, but I did not use a reduced fat mayonnaise. I used regular Hellmann's Mayonnaise, plus I only added 6 tablespoons of sugar, a 1/4 cup of white wine vinegar (instead of red wine vinegar), 1 tablespoon of diced onion, and I only added 1 teaspoon of celery seed, which I thought was more than enough. After I chilled the dressing for about 2-1/2 to 3 hours in the fridge, it thickened up nicely, and I thought it tasted much better with the modifications I made with the ingredients. Like I said, this is a good dressing, but you may need to modify the ingredients to your taste.
In a small bowl, whisk the mayonnaise, sugar, onion, vinegar and celery seed. Cover and chill until serving. You can double this recipe and keep extra on hand.