Low Calorie Seafood Dip With Walnuts
twissis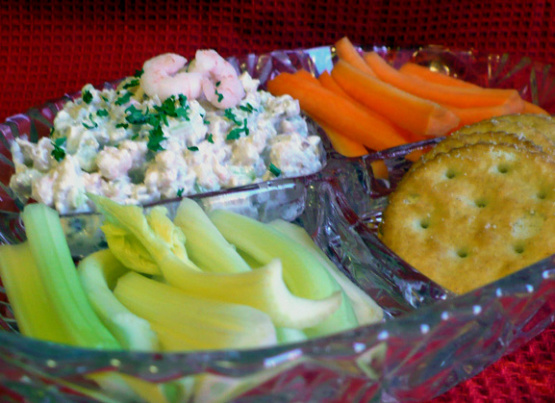 This can easily be doubled as this is a total of 48 tablespoons total. Great with saltine crackers.

Made for your Wk 12 Football Pool win, I agree w/pammyowl that this recipe is basic. As such, it seems to invite the cook to indulge their pers pref. Imitation (or real for that matter) crabmeat isn't available here, so I used Icelandic baby shrimp & added Old Bay Seas (as she did) as I esp favor its use w/shrimp. I served this cold (vs warm from the crock-pot) w/crackers, celery & carrots. I esp liked the textural elements & even added more w/sml dice celery. The end-product made for some mighty fine snacking during the games yesterday. Congrats on your win & thx for posting this recipe for us.
1

(8 ounce) package nonfat sour cream

1

(8 ounce) package imitation crabmeat, strands freeze dried

2

tablespoons onions, finely chopped

4 -5

drops hot sauce
1⁄4 cup walnuts, finely chopped

1

teaspoon paprika
Blend all ingredients except nuts, and paprika until well mixed.
Spread in slow cooker, sprinkle with nuts and paprika.
Cook on low for 3 hours.