Jen T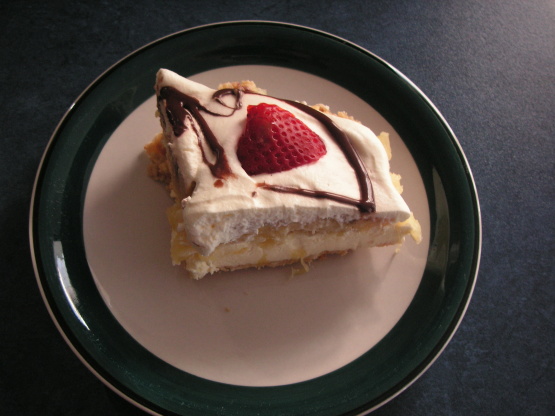 My friend Llanda gave me this recipe. She had another name for it, that wasn't PG-rated, so I changed it to "Ecstacy".

Top Review by Jen T
I had to sub fresh whipped cream for the 'cool whip' so that added to the fat content but no one was worried. :) On one half I topped with sliced strawberries as not all my guests liked cherries and this worked well. The filling was a little sweet for me but my guests loved it. Another 'keeper' :)
Crust: Mix 2 cups graham cracker crumbs and 1 stick melted butter together.
Spread in 9 x 12 inch Pyrex dish.
Filling: Beat 2 sticks butter, eggs, and sugar together for 15 minutes and spread on top of crust.
Drain pineapple and spread on filling.
Slice bananas lengthwise and dip in pineapple juice.
Place bananas on top of pineapple.
Spread on Cool Whip.
Top with nuts, then drip some chocolate syrup around, and add some cherries.
So good, you'll die happy!