Lisser Sue's Strawberry Pie (Fruit Juice Sweetened)
mliss29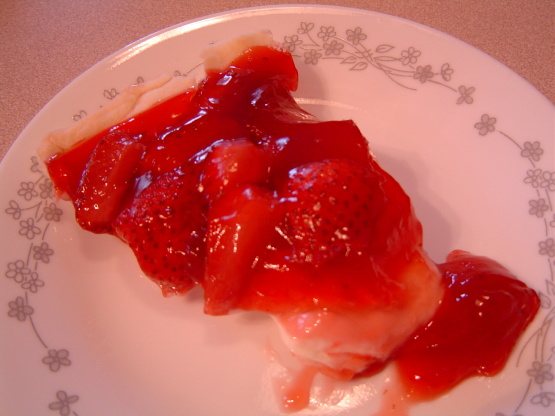 I've been thinking about this pie for a long time and when I saw 4 pound packages of strawberries for $4.99 at the store I knew today was the day! This is inspired by Yadda May's Strawberry Pie and Sugarless Apple Pie. You can also make the strawberry layer with 12 ounces of white grape juice concentrate and add food color. It's a little sweeter that way. I used 3 drops of the neon pink and 3 drops of red and got a really nice color.

Made & reviewed for ZWT 4 ~ Kumquat's Kookin' Kaboodles! I chose this recipe for Zingo as I found the recipe very interesting. I am used to doing placing uncooked strawberries in the pie but this is a very nice way to do it also. I made some fresh shortcrust pastry for this. The whole family really enjoyed this pie. Thanks for a lovely recipe :)
1

quart strawberry, trimmed and quartered

12

ounces apple juice concentrate (I used apple-kiwi-strawberry but Zaar wouldn't allow that description)

1

pinch salt

3

tablespoons cornstarch

8

ounces neufchatel cheese, softened

6

tablespoons white grape juice concentrate

1

pie crust, baked
Mix strawberries through cornstarch and cook over medium heat, bringing to a boil then reducing heat.
Cook for 5 minutes, stirring to prevent sticking.
Separately combine the softened cream cheese and grape juice concentrate in a food processor.
Pour the cream cheese mixture into an already-baked pie shell.
Top with the cooked strawberry mixture.
Chill before serving.