Prep 15 mins
Cook 10 mins

This is one of my very favorite Italian pasta dishes. I serve it with crusty french bread for dipping in the sauce, with a side salad of baby mixed lettuces, spinach, and grape tomatoes. The recipe is from my late mother's collection. :) Very quick and easy to prepare, using canned chopped clams.
Directions
Heat olive oil in saucepan and simmer on low for about 2 minutes. Add butter. When butter is melted, add garlic and let simmer for another 2 minutes. Add remaining ingredients and heat thoroughly, but do not allow to boil, because clams will get tough. Serve over hot linguine with freshly ground black pepper. I also like a little grated parmesan cheese on top. Enjoy!
Reviews
Most Helpful
This was delicious, and super easy. The only problem I had was finding such a large can of chopped clams. I can only seem to locate 6 oz. cans, so I used 2 10-oz. cans of baby clams and 1 6 oz. can of chopped clams, with all their liquid. It turned out perfectly. We enjoyed this over whole wheat linguine (to minimize the guilt). I will be making this again. Made for Pick A Chef Fall 2009.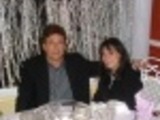 Have just moved to Italy from Oz with the fam and wanted to cook something quick, tasty and Italian. Irishcolleen, your recipe was a life saver as my fussy Italian in-laws loved it. Thanks mate!
How wonderful at last to find a sea food italian recipe without using any sort of tomato sauces, pastes, fresh tomatoes....last time I had linguine alla vongole done this way was in florence - unfortunately not repeated in the us & not in australia - thank you so much irisjhcolleen from ozjack