Linda's Mushroom and Squash Medley
Parsley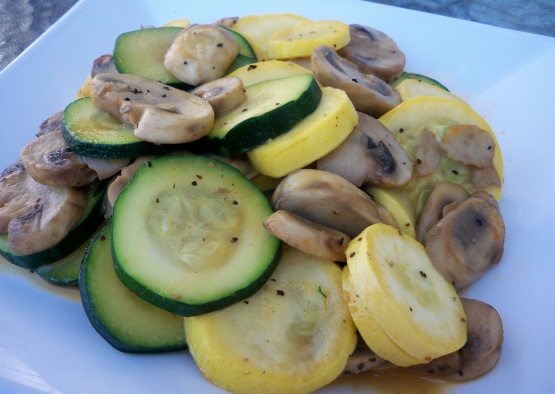 I love this combination of veggies... Great taste and something just a little different to have along with your favorite meat or fish dishes... REALLY GOOD! Note: Soul Food Seasoning contains salt, sugar, garlic, onion and paprika if you don't have it in your cupboard.

Awesome summer veggie dish! I skipped cooking the mushrooms in water and made everything together, leaving the veggies "al dente" in texture. I used the recipe intro's description to make the soul food seasoning. I used more than the 1/4 tsp called for. It's the perfect seasoning mixture for these veggies. Thanx for sharing!
1

lb mushroom, cut into thick slices
1⁄2 cup water

4

tablespoons oil

2

tablespoons garlic, chopped fine
salt and pepper, to taste
1⁄4 teaspoon soul food seasoning, see note above

1

(8 inch) zucchini, sliced

1

(8 inch) summer squash, sliced
Cut mushrooms, not too thin, about 4 slices to a mushroom.
Over med-high heat, in a frying pan, cook mushrooms with water, and garlic, salt, and pepper. Keep mushrooms a little crunchy.
Drain water and add oil, and Soul Food Seasoning. Mix well.
Add squash, and cook until al dente.