Food.com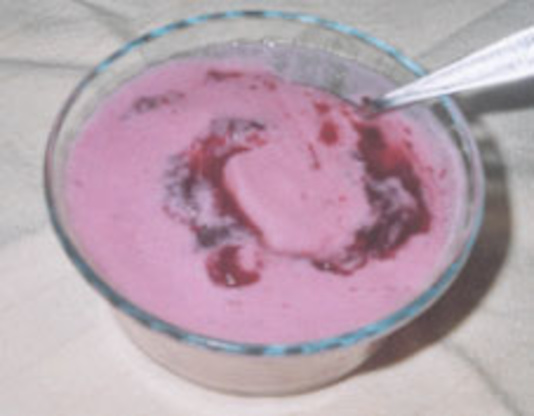 A light, fresh-tasting dessert. Healthy and not overly sweet. Prep time does not include time for chilling. From Great Good Food. Edited to add: This is one of the recipes I adopted from the Recipezaar account.

This is wonderful! Of late, I like desserts using cottage cheese and this one is really good! I pureed all the ingredients in the blender(other than the strawberry jam tht I omitted) and poured it over some ice cubes in a tall glass garnished with a sliced strawberry. It was really nice and I'd recommend it to everyone looking for a nice healthy smoothie. Yes, I had this as a breakfast smoothie and not as dessert;)This makes 2 servings for the quantity of ingredients mentioned in the recipe and not 4 servings.
Puree strawberries and cottage cheese in a blender.
Put yogurt in a bowl.
Fold in strawberry mixture.
Add honey and vanilla, and mix gently but thoroughly.
Chill.
When ready to serve, place in 4 individual dishes and, if desired, swirl a teaspoon of strawberry spread into each one.