Light Peach Upside-Down Cake
Xanthia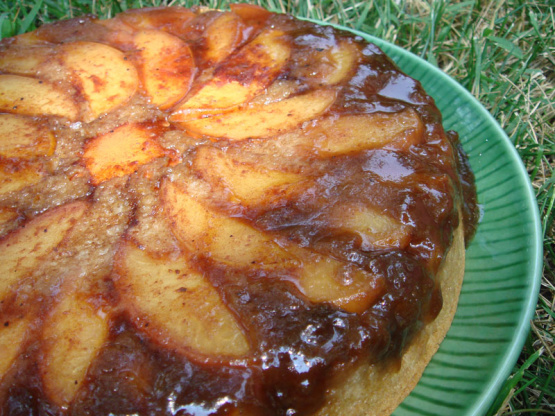 This makes a beautiful cake. I made it this week for a lunch at work. The recipe comes from the February/March 2002 Taste of Home's Light and Tasty magazine. I made some minor adjustments to reduce the amount of sugar.

I am NOT a baker. I was skeptical about making a cake that looked like the picture. As you can see in my photo, I did!! I had a box of fresh peaches to use up & decided to try for company coming for dinner. This was great! Not too sweet, nice flavor and very light tasting. I used 3 fresh peaches & it worked great! Easy but looks much harder! Thanks Paula G for a peach recipe that doesnt have a pound of butter!!!
Preheat oven to 350°F.
Spray a 9 inch round baking pan with nonstick cooking spray and set aside.
Drain peaches, reserving 2 tablespoons of the juice.
Pat peaches dry between layers of paper towels and cut the peaches in half lengthwise.
In small bowl, combine the brown sugar, cinnamon, nutmeg, reserved juice and 1 tablespoon of the melted butter.
Spread into prepared baking pan and top with peaches.
In a large bowl, combine the flours, sugar, baking powder, baking soda and salt.
In separate bowl, combine the buttermilk, egg or egg substitute, vanilla and remaining butter.
Add to dry ingredients and stir until blended well.
Spoon over peaches and bake in preheated oven for 30-35 minutes or until toothpick inserted near center comes out clean.
Cool for 10 minutes before inverting onto serving plan.
Best served warm.
Please note: Cooking time includes the 10 minute standing time.