Light and Fluffy Baked Apple Pancake
Boomette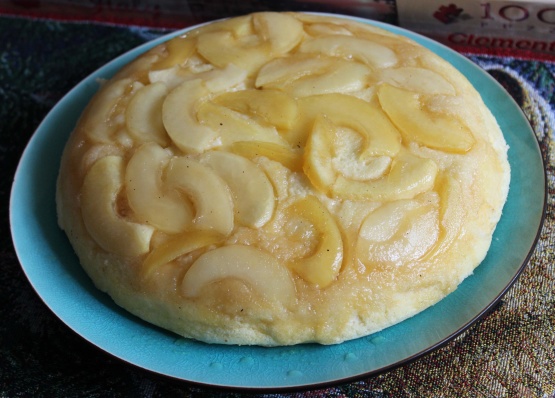 From "Food & Wine". I haven't yet tried this, but I needed to know the calorie count, so I am posting it here first. It looks good, and maybe it's not as "bad" as it looks. Please post a review if you make this so I'll know if it's worth the calories. One thing I would change is to replace the non-stick skillet with cast iron or maybe stainless steel.
DH said it was a little bland. So next time I'll add cinnamon. I baked it the time that you wrote and it seemed perfect. It was golden and puffed. I let it rest the 5 minutes. When I inverted it and sliced it, it was too moist. It was not perfectly baked. So I had to cook the pieces separately in the microwave for 1 minute. Next time I'll bake it 30 minutes or check with a knife inside. Me and my son liked it so much with maple syrup. Thanks Laura :) Made for PAC Spring 2013
Preheat the oven to 375°. In a 10 1/2-inch nonstick ovenproof skillet, melt the butter. Add the apples, 1 tablespoon of the sugar and the lemon juice and cook over moderately high heat, stirring occasionally, until the apples are golden, about 6 minutes. Add the maple syrup and simmer over low heat until thickened, about 1 minute. Spread the apples in an even layer and remove the pan from the heat.
In a medium bowl, whisk the flour with the baking powder and salt. In a measuring cup, whisk the egg yolks with the milk and the remaining 2 tablespoons of sugar. Whisk the liquid into the dry ingredients.
In a medium bowl, using a handheld electric mixer, beat the egg whites at medium speed until firm peaks form, about 2 minutes. Fold the beaten whites into the batter and scrape it over the apples, spreading the batter to the edge.
Bake the pancake in the upper third of the oven for about 20 minutes, until it is golden, puffed and set. Let the pancake cool for 5 minutes. Run a knife around the edge to loosen the pancake, then invert it onto a serving plate. Replace any apples that may have stuck to the pan. Cut the pancake into wedges and serve at once with additional warmed maple syrup.