PumpKIM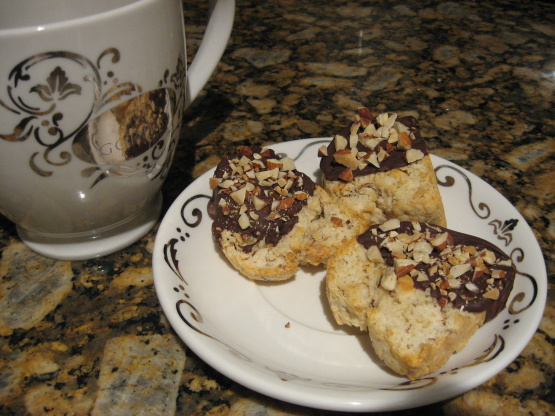 Found this in an old light cooking book. Tried a few different things this was the result.

Needs more sweetness, it's just a little to "flour like". I also found that the second round of bake time is a bit too short- i would go with 8-10 min. Other wise it's a bit too soft and not as snappy as biscotti should be. Good flavor and gives a great base for options.
1⁄4 cup finely chopped almonds
1⁄4 cup sugar

2

tablespoons margarine, softened

4

egg whites
2 1⁄2 teaspoons almond extract

2

cups flour

2

teaspoons baking powder
cooking spray
Preheat oven to 375°F.
Place almonds in a small pan.
Bake about 6 minutes or until golden brown (watch carefully).
Set aside to cool.
Beat margarine and sugar in a medium bowl with a electric mixer until smooth.
Add egg whites and almond extract; mix well.
Combine flour and baking powder in a large bowl; mix well.
Stir egg white mixture and almonds into flour mixture.
Blend well.
Spray two 9x5-inch loaf pans with cooking spray.
Divide dough evenly between the 2 pans.
Spread dough in pans with wet fingers.
Bake 15 minutes or until knife inserted in the center comes out clean.
Remove from oven.
Turn on to a cutting board.
Cool slightly.
Once loaves are cool enough to handle cut each loaf in to 16 slices.
Place slices on a baking sheet sprayed with cooking spray.
Bake 5 minutes.
Turn bake 5 minutes more or until golden.
Serve warm or cool completely and store in air tight container.