Lentil Tomato & Chorizo Soup
Rita1652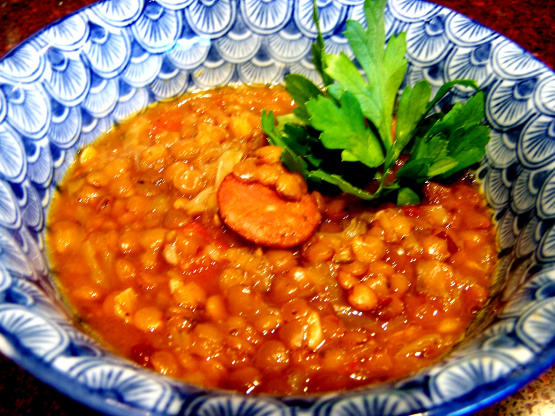 A lovely simple soup to make, kids will even eat it if the chorizo is not too spicy, little miss DD is testament to that! From Edgell Australia.

Good stuff! I added 2 cups shredded cabbage, 1 chipotle in adobo sauce, parsley, celery seed and cumin. Used home made no sodium turkey broth. And 3 cups dried lentils. The next day I added left over meatballs (crumbled) sauce and all to it and was even better. Thanks!
Place chorizo sausage, garlic and onion in a large saucepan and cook for 2- 3 minutes.
Stir in undrained Edgell Brown Lentils, tomatoes and stock. Bring to the boil, reduce heat, cover and simmer for 15 minutes.
Serve soup sprinkled with parsley and serve with toasted Turkish bread.