PaulaG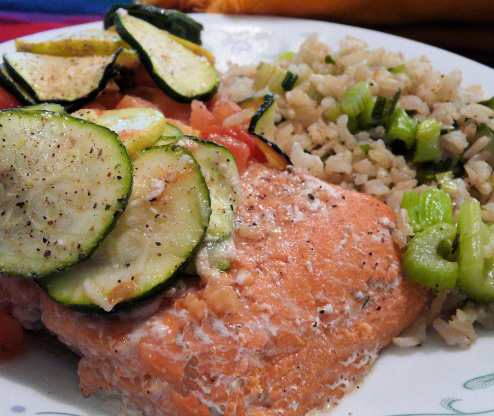 For those cooking for one or more, this is a simple, healthy, and satisfying dish.
Top Review by PaulaG
Salmon is one of my favorite meals. I was a little concerned about slicing the squash thin. I was afraid that it would be overcooked. After the initial 15 minutes, everything needed to cook longer. I covered the dish loosely with foil and baked it for another 10 to 15 minutes. The salmon was nice and flaky and the squash still had a slight crunch. A couple of minced garlic cloves was added to the tomato mixture. Made for *PAC Spring 2008*
Preheat the over to 325 degrees F.
Slice zucchini and yellow squash into thin slices.
Dice the tomato.
Place the salmon fillet in a glass or ceramic oven-safe casserole dish
Drizzle about a tablespoon of olive oil onto the fillet, season with salt and pepper lightly.
Lightly cover the fillet with slices of zucchini and yellow squash. Place excess around the fillet.
Place the remaining olive oil, lemon juice and diced tomato in a small bowl. Lightly crush the tomato and mix everything together.
Pour tomatoes, lemon juice and olive oil mixture over the fillet and vegetables.
Season lightly and let bake for about 15-20 minutes.